Will you be finding your Pot Of Gold today??? Oh, I hope so My Sweet Bloggy Friends. Today... I will be thinking Green . Green Cupcakes, Green t-shirts, and definately posting Green Projects.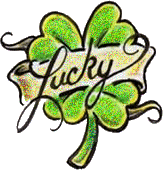 My Inspiration for today's Project was My M-I-L. Lucky for her, Her Birthday falls on St. Patrick's Day. So, her special day is filled with Green. For my project I made a 4x4x2 Giftbox. I really enjoy making these lil' boxes because they are super easy to make. Here are some pictures I took of my Design Team Thursday Project:
Adding a border punch to the box lid edges give the box an added decorative touch.
The Happy Birthday Circle Sentiment is from Joy's Life "All Around Sentiments" Stamp Set. You Can go to Joy's Life Products on the Tabs Above. It takes you directly to her products to purchase.
Of course I had to finish my lil' giftbox with my Custom Blog Stamp from PSA Essentials. This time I put it on a GREEN 2" circle and GREEN Cupcake.
Thank you sooo much for stopping by Sweet Friends. Please... don't forget to leave a sweet comment of what you thought on my project post for today. I love to read every single one!
HAVE A HAPPY AND SWEET ST. PATTY'S DAY!
And...
Sweet Creations...